Closing of the 2018 chapter
This last year has been one of the most difficult years of my life. I moved across the country, from the frigid north to the hot and humid south. It was a huge adjustment, and I don't think I'll ever be used to it, which is why I plan to move again in the coming months… But it has been one heck of an adventure.
I thought I was as healed as I was going to get since the injury that altered my life nearly 3 years ago. Little did I know that I would find a different type of doctor who would offer me a solution to all the pain and discomfort I had been feeling every single day. It was awful and brutal. Every other day, I was at the chiropractors office and he manually adjusted every part of my body. After every session, he would use an ultrasound, a laser, or electrodes to help my muscles relax… I can't imagine how it would have felt if he hadn't done that. Most days I would come home and sleep for the rest of the day, all through the night, and into the next day. I didn't want to move because my body would be in such agonizing pain from the alterations. But one day, after a few months of seeing the chiropractor, I was listening to some music and realized I was moving my hips without shooting pains up my back… and the tears flowed. I never thought I would be able to move like that again, but after seeing a chiropractor for 9 months and a massage therapist for over a year, I can move with minimal pain. Some days I still have discomfort, but my shoulder blade is nearly laying flat in my back again, my hips are even, my neck does not strain to hold up my head. Yes, if there was anything good about Texas, it was the healing.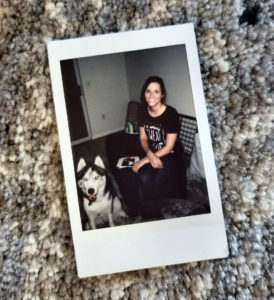 Just a few weeks before I was supposed to visit family in Wisconsin, I had run into another problem. I ended up needing oral surgery. It was one of the most painful experiences – as anyone with mouth pain will tell you. Even after all of my struggles with the physical pains this year, it seemed that I wasn't out of the woods just yet. My jaw is not the same, and I'll likely have to get a mouth guard now for sleeping at night, but I'll manage. The tooth that had been nothing but problems my entire life is gone. For that, I am thankful.
Then Ferro was attacked by another dog. That moment ripped my heart from my chest. I had to wait a few hours as they put him under and stitched him up. I didn't know if I could take anymore. I was drained physically, mentally, and emotionally. The only thing I wanted was to breathe. To focus on my breaths. To find a mountain, climb, and sit in the silence with Ferro, the world beneath us. But he was okay. I was okay. And every day I have been focusing on one thing at a time. One small step. Even if it was miniscule. Even if I fell back a few steps. I focused on one. Small. Step. At a time.
It could have been so much worse, and that is what I remind myself every time I start to sink into a depression about how much this year has drained me. Ferro is healed, I am getting there, and we will not quit.
While this year has felt like one hit after another, it's also been one of the best years of my life. The healing has been immense, and you can bet I'm ready to stand tall in 2019 and accomplish my goals.
Cheers to the new year!