One of my favorite things to do when the stress of life gets to be too much…
ROAD TRIP
Ferro and I decided to take to the road this last weekend and hit up Green Bay, Wisconsin. Our first stop was to visit Lambeau Field. While it was incredibly cold and windy and a bit icy, it was a view and a fun experience.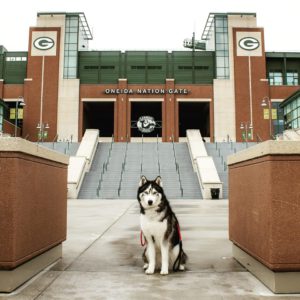 We were able to go to a couple breweries with a friend and taste some different beers. Normally, I'm not a beer person, but this was actually good and it was a great time to try something new!
However, the beer affected my stomach in such an unpleasant and painful way. It made me feel bad that I was not able to hit up a couple other locations with my friend, but we did what we could with the time we had. That's what matters.
It was one of those weekends where I put the phone away and just focused on the moment. Those are some of the best times. You don't need to live on social media. You need to live in the moment. That is what this last weekend had offered me. A chance to put the phone down, the technology away, and spend some time with Ferro and a friend.
This coming week will be a long one. Another road trip. This time it won't be a couple hours drive. It will be around 1200 miles. From the frigid north of Wisconsin to the "this is not winter" of Texas.
I'm sure I'll have some fun things to tell you about that trip once I arrive back at my apartment. Then… I will have some more things to share with you all in regards to my writing!