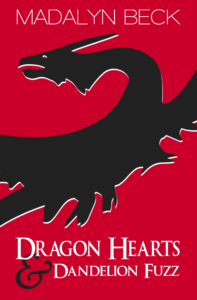 Madalyn Beck invites you to peer into yourself while delving into her latest collection of poetry. Her poems are a fantastical introspection, inviting you to remember who you were and telling you who you could yet be. Her beautifully lyrical prose glimpses beyond the harsh truth of everyday life and reminds us that the world isn't just how we see it; it's what we make it. Life is more than survival; it's a human experience that often seems otherworldly until we step beyond the boundaries set by convention and realize that we are each greater than the sum of our trials.
May the words inside help you find your wings and give you the courage to fly.
What people are saying. . .
"What incredible words. Brimming with life affirming moments and the writing is so well done, so talented!
She speaks from the heart and I adore all that is written by this incredible writer!"

– Renee Furlow via Amazon
"Wonderful read by a terrific writer. I enjoyed each page. Keep up the great work."

– Topher Kearby via Goodreads
"A beautiful read, imbued with the fighting spirit that I think we all need sometimes when it feels as though the world has turned against us."

– Jodi via Amazon